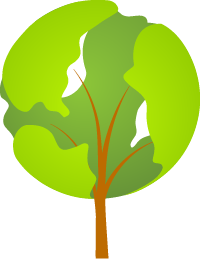 Plant forests to recover areas with environmental liabilities or plant commercial forests of their own or for third parties. In the recovery of degraded areas, we can identify the recovery of RL and APP (Legal Reserve or Permanent Preservation Area), the recovery of hydrographic basins, among others. And, when we talk about commercial forests or silviculture, they are our own projects or those of third parties, where we can use our technologies for fast seedling production and extremely fast planting, with lower quality and cost, which are the biggest differential of our initiative to any current forestry promotion project.
Planting forests is a very vast activity, and in our projects we include fruit trees (agroforestry), agriculture-pasture-forest integration, and all existing forms of silviculture.
We specialize in producing seedlings faster and planting on an industrial scale. The forest planting machine that we created and built, in several versions, plants a daily average of 86,000 seedlings, in an area of approximately 103 hectares / day, with only 3 (three) operators. It is the fastest, quality and low cost way of planting forests today.
In addition to the projects for the recovery of degraded areas that we are executing, we are also organizing our entire nursery and planting structure to plant forests for third parties using our technologies and equipment.
Request more information by email: [email protected]